Learn More
The Latest From Broussard Louisiana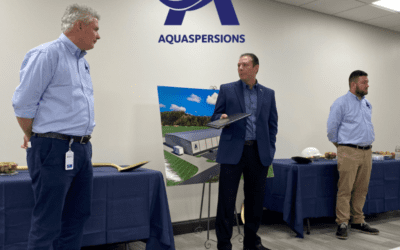 On November 30, 2022, Broussard welcomed two new companies to the city, both of which are making global impacts. Aquaspersions Limited held a Groundbreaking Event for their newest location, which is adjacent to the SafeSource Direct facility on Lake Talon Road. Upon...
The Broussard Chamber of Commerce continues to compile and update a list of available public resources for the business community and residents of the City of Broussard. You will find: Community Announcements Small Business Support Opportunities Restaurants that are...
The Broussard Economic Development Corporation, St. Martin Economic Development Authority, One Acadiana and SLEMCO made the announcement Thursday regarding the 49.74-acre site in St. Martin Parish at the Spanish Trail Industrial Park, which is just west of La. 182 and...
The Broussard Community is invited as Senator Fred Mills makes a special announcement Thursday, February 27, at 2:00 pm regarding the Spanish Trail Industrial Park site certification. Refreshments will be served and there will be entertainment following the...
Dialysis Clinic, Inc  opened the new Broussard, LA location at 222 St. Nazaire Road, Broussard, LA 70518. The open house will be held from 4pm to 7:30pm on February, 27th! This facility will be DCI's eight clinic in the Acadiana region. Learn more at...
Mayor Ray Bourque and the Broussard City Council have approved $2.9 million for the second and final phase of the extension project. The 1-mile-long, four-lane road will have a grass median and be built in undeveloped parts of Broussard. Mayor Bourque said the new...
Trapp's Broussard, 209 N. Morgan Ave., opened Oct. 28 in the 4,500-square-foot building that previously housed Hook & Boil and offers Cajun and Creole dishes. The restaurant employs 40 people and also has an outdoor patio with a custom cypress bar that will soon...
The Market is nearing its opening. We are targeting Saturday, September 28th, 2019. The Market at Broussard Commons is community indoor market for farmers and local vendors a platform to sell their products located at 817 Suite M Albertson Parkway Broussard, La 70518....
Like all of RaceTrac's newer stores, you can find fresh deli items, donuts, fresh pizza by the slice, a wide selection of coffee, Swirl® Frozen Yogurt and, of course, fuel. Prior to any RaceTrac opening, a pseudo gas price is displayed on their...
BROUSSARD – Mayor Ray Bourque and the Broussard Economic Development Corporation are welcoming Cox Communication's expansion of gigabit connectivity to the city's residents and businesses. Mayor Bourque cited the importance of high-speed...
The City of Broussard, with assistance from the Lafayette Economic Development Authority (LEDA), has engaged the services of B&A Planning Group to coordinate a charrette for developing a master plan for Broussard's